Kinéis presents its constellation at Viva Technology 2023 and participates in the Pitch Studio on "SpaceTech"
Kinéis will be exposed for the first time at the 7th edition of Viva Technology, the largest annual European event dedicated to innovation, start-ups, and Tech, at Paris Expo – Porte de Versailles, from 14 to 17 June 2023.
This year, VivaTech 2023 welcomes 90,000 people, 2,500 exhibitors, and more than 146 countries and brings together start-ups, tech leaders, large companies, public actors, and investors from all over the world. The goal of VivaTech is to try to provide answers to the challenges of our time and to propose solutions for the business world and society.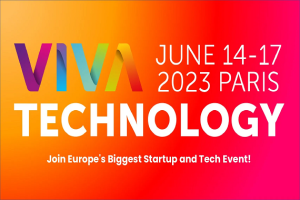 On this occasion, Alexandre Tisserant, CEO of Kinéis, François Henry, Director of Strategy, Astrid Cousteau, Director of Sales and Business Development and Revenue, Anne-Cécile Thibault, Director of Communication and Marketing and Samuel Burlac, Business Engineer, will present the assets of the French constellation Kinéis at this high mass of Tech.
Since February, Kinéis has strengthened its position in the Tech community by integrating the 2023 program of the French Tech 120, a promotion focused on environmental and societal issues, after two consecutive years within the Next40 program.
VivaTech 2023 represents a prime opportunity for Kinéis to present its cutting-edge technology, the result of the expertise and technical know-how of the French space players involved in the constellation of its nanosatellites, of which a scale 1 model will be exhibited.
Kinéis is the first French and European constellation dedicated to connectivity for the Internet of Things (IoT). It will be launched in early 2024 and will allow global coverage, low-speed, low consumption, at attractive prices. Its applications operate in areas that today represent major challenges for humans, their activities, and their environment:
connected agriculture and fishing,
forest fire prevention,
monitoring of humanitarian convoys,
traceability of wild animals (land, air, sea),
monitoring of infrastructures and networks,
transport and logistics,
monitoring of commercial, scientific, and sporting maritime activities.
Saturday, June 17th at 4 pm, at the request of VivaTech 2023, Kinéis will go up on the stage of the Pitch Studio, whose theme of this edition is "SpaceTech" and will compete with 7 other start-ups. François Henry, Director of Strategy, and Income at Kinéis, will give this 3-minute presentation and answer questions from the members of the jury, before the deliberation and presentation of the VivaTech trophy.